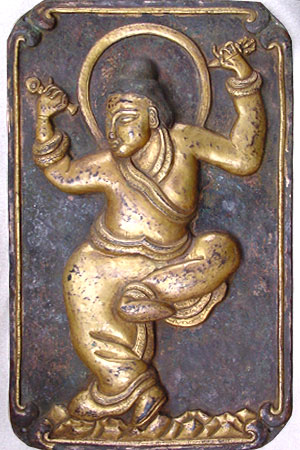 A Tibetan monk with Phurba.

Padmasambhava is credited with the invention of the phurba. During the struggle against the demons who were fighting the establishment of Buddhism in Tibet, he is said to have pulled out a peg from the tent of a non-believer and, using the peg to nail down evil spirits, consecrated the ground on which the Samye Monastery weas established in the eighth century. This simple peg became the Phurba, an important tool of religious practice that is used to this day in the ritual destruction of negative emotions.
Click on the small photos below for enlargements and further descriptions. To pay with a credit card through our secure Paypal server, click on the Add to Cart button. Priority mail shipping is free in the US; the cost of shipping to other countries will vary according to the shipping method. Please note that most countries charge customs duty which we have no control over and do not pay for you. Check with the Customs Department in your country to see how much you will be charged. E-mail us or telephone 518.658.3233 for shipping quotes or alternate payment methods.

| | | |
| --- | --- | --- |
| | | 1. Unusual Single Faced Phurba. Nepal, 19th Century. 8 1/2" (22 cm). Light colored, very hard wood carved with a single very expressive fierce face. The tip of the blade is slightly cracked on one side. I've never seen another phurba like this one. Beautiful patina. $450. |
| | | 2. Long Phurba with Metal Rattle. Nepal, 19th Century. Wood, 13" (32.5 cm). Beautiful patina. Three mask-like faces with a metal chain as a rattle to awaken the gods. The three-sided blade has a metal tip. $450. |
| | | 3. Garuda Phurba. Nepal, Early 20th Century. Wood, 10" (25 cm). Nice carving of a winged Garuda. There's a metal ring on the top where cloth strips or a metal rattle was attached. The Garuda's tail was once a separate piece but is now missing. $325. |
| | | 4. Long Metal Antique Phurba. Tibet, 19th Century? Wood, 12 1/4" (31 cm). Purchased in the Barkhor in Lhasa in the 1990s, it was sold to me as meteorite metal. I don't know what the metal is; possibly iron but it doesn't rust the way iron would. Very plain, with a 3-sided blade, a little bent at the bottom. SOLD. |
| | | 5. Crown Phurba. Nepal, 19th Century. 8 3/4" (22.5 cm). Wood with metal tip. 3 deities, each with a different smiling expression. One face has an old break at the top. Two elaborate endless knots and an interesting checkered vajra. The end of the metal tip is broken. $250. |
| | | 6. Pair of Ancient Phurbas. Nepal, 16th Century or earlier. Wood, 8" (20 cm). A rare pair of very old wooden phurbas, possible part of a larger set used to pin down restless energy. In tantric ceremonies they would be used to create a protective circle of phurba stakes connected by threads. SOLD. |
| | | 7. Very Old Purba Nepal, 17th - 18th century. 10" (25 cm) long. It is very hard to judge the age of these phurbas but, judging from the wear and type of wood, this is several hundred years old. Three fierce faces with a crown -- and a very old break in one side of the blade. SOLD. |
| | | 8. Wooden Phurba Set. Nepal, 16th century. Each is 6 1/2" (16.5 cm) long. Used by priests as a part of a mandala ritual. Used to pin down restless energy and create a sacred space, the priests would make a protective circle of phurba stakes connected by threads. Four of the phurbas have elaborate headdresses, five have crowns; these nine are arranged around the taller, simpler phurba. Made of very hard wood; when the phurbas are moved around together they ring almost as though they were metal. $2,500. |
| | | 9. Hayagriva Phurba Nepal. Wood, 9 3/4" (24.5 cm.) 19th century. Wonderful phurba with three different faces: one serene, one frowning and one baring teeth. Above them is a metal horse's head, indicating that the deity is Hayagriva. The three-sided blade is a beautifully defined makhara. SOLD. |
| | | 10. Large Phurba of Fierce Winged Deity. Early 20th century. Nepal. Wood, carved with 3 faces, each with a slightly different expression. There is some damage to the crown on one side, the deity's hands and one wing, along with 2 sides of the blade; still this is a wonderful, powerful piece. The flayed human skin hanging down the back is a nice touch. 12" long and 4" wide. SOLD. |
| | | 11. Garuda Phurba. Early 20th century. Nepal. Wood. Wonderful piece with 5 deities wearing a crown of skeletons and skulls. The top is a figure of a bird and a snake -- probably a reference to Garuda. Smiling snakes twist around the handle and the blade is carved with many sacred symbols. 8 1/2" (21 cm.) long. SOLD. |
| | | 12. Ancient Bhairab Phurba. Ca. 16th century. Nepal, hardwood. With the crowned face of a Bhairab, or protective deity. 8 1/2" (21 cm.) long. $350. |
| | | 13. Ancient Bodhisattva Phurba. Ca. 16th century. Nepal, hardwood. With the benign face of a Bodhisattva. 7" (18 cm.) long. $295. |