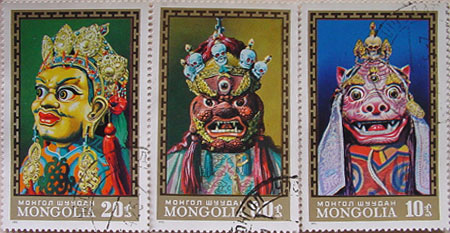 Ritual Masks on Stamps from Mongolia.
Collected over a period of 30 years and totalling over 100 masks, this is a wonderful collection. This is a partial list, to be added to as we have time.

Click on the small photos below for enlargements and further descriptions. To pay with a credit card through our secure Paypal server, click on the Add to Cart button. Priority mail shipping is free in the US; the cost of shipping to other countries will vary according to the shipping method. Please note that most countries charge customs duty which we have no control over and do not pay for you. Check with the Customs Department in your country to see how much you will be charged. E-mail us or telephone 518.658.3233 for shipping quotes or alternate payment methods.
| | | |
| --- | --- | --- |
| | | RV1. Dharmapala Mask. Wood. 19th, early 20th Century Tibet. 14 3/4" high by 9 1/2" wide. A classic Tibetan mask of Dharmapala, protector of Buddhist faith. This was used in a monastery's ritual Cham ceremonies depicting the victory of Buddhism over the demons that once ruled Tibet. Fine carving, showing the terrible deity with his mouth open, teeth bared above a flaming beard. He has high cheekbones beneath bulging eyes and flaming brows and the third eye in his forehead. He wears a five pointed diadem of grinning skulls. SOLD. |
| | | RV2. Joker Mask. Bhutan. Wood, early 20th Century. 11 3/4" high by 6 1/2" wide. The joker is a popular figure in Tibetan ritual dances -- sometimes a helpful, sometimes a harmful figure. Here he appears as a weathered man wearing a Tibetan cowboy hat. Wonderful carving in hard, fine-grained wood. ON HOLD. |
| | | RV3. Buddha Mask. Nepal, 18th Century. 10" high by 7" wide. Carved of a fine-grained hardwood with much of the original paint and depicting the face of the Buddha in meditation. His eyes are closed and his ears have elongated loops, reminders of his renounced princly status. SOLD. |
| | | RV4. Tiger Mask. Nepal, early 20th Century. 8 1/2" high by 8" wide. A naive-style carved and painted mask with longitudinal incised marks and large fangs. Colorfully painted with yellow and black stripes and having a large red tongue with a viewing hole and eyes with sunburst lashes. Made for a ritual dance. SOLD. |
| | | RV5. Man with a Turban. Nepal, 19th to early 20th Century. 10" high by 7 1/2" wide. The well-carved face of bluish green tinge depicts a full-faced man with small, high ears gazing directly at the onlooker. His lips are slightly pursed over a cleft chin and his neatly arranged hair shows beneath the turban. $650. |
| | | RV6. Oracle Mask. Tibet, 19th to early 20th Century. 14" high by 9" wide. A large carved and inscribed wood mask depicting a strong face, possibly of a lama or an oracle. It has a dorje finial and three lines of Tibetan text on the top. Between the thick eyebrows is a sun cradled within a crescent moon. His open mouth has bared teeth and once had four large fangs, only one of which remains. Blessing color on the mouth hints that this mask was possibly used for oracular pronouncements. The nose has been damaged and repaired. SOLD. |
| | | RV7. Man with a Mustache. Nepal, 19th Century. 10 3/4" high by 7 1/2" wide. A black-stained mask with odd, almost triangular eyes incised about the openings, a short nose over a deep, open-mouthed grin with teeth showing. A small applied blond horshair mustache and beard as well as a tuft between his eyebrows. He has small carved ears to the sides of his face. $350. |
| | | RV8. Simhavaktra Lion Mask. Bhutan, 19th Century. 12 3/4" high by 7 1/2" wide. This white-faced mask depicts Simhavaktra Dakini, the lion-headed Bardo deity who is the companion of Palden Lhamo, Protectress of Tibet. With open, snarling mouth, curled tongue and bulging eyes, she has a stylized skull diadem between her pointed ears. SOLD. |
| | | RV9. Primitive Mask. Arunachal Pradesh, Northwest India, 19th Century. 10 1/2" high by 6 1/4" wide. With a vestigal stylized dorje knob on his head, he has round eyes beneath a heavy mono-brow, a long nose over an open mouth with crudely expressed teeth. Expression has been added to the eyes with blue paint giving an impression of wry sadness. $650. |
| | | RV10. Timor Mask. Timor, 19th Century. 9" high by 6" wide. A mask of an open mouthed man with several natural teeth remaining although some are missing. Hair falling down over his vacant eyes and a long goatee beard have been added using boar's hair with the hide attached. Traces remain of the yellow paint which once decorated his cheeks and around his eyes. SOLD. |

| | | |
| --- | --- | --- |
| | | 1. Dharmapala Mask. Wood. 19th, early 20th Century Tibet. 11" long by 10" wide. A classic Tibetan mask of Dharmapala, protector of Buddhist faith. This was used in a monastery's ritual Cham ceremonies depicting the victory of Buddhism over the demons that once ruled Tibet. Fine carving, with a lively smiling skull crown and nice patina. SOLD. |
| | | 2. Smiling Man. Southern Nepal, 19th century. 12" (30 cm.) long. Wonderful early mask from the Terai region of Nepal. Old patina and original paint and a great smile, despite missing teeth. $450. |
| | | 3. Man with A Mustache. Early 20th Century from the Middle Hills of Nepal. 10" long. The Magar masks are know for their use of fur and bone on the wood. A primitive carving with fine lines. The horsehair mustache and hair were attached with pitch and the teeth were once painted white. $450. |
| | | 4. Large Processional Mask of Bhairab. Central Nepal. Wood, mid-20th century. 18" long x 12" wide. A large Bhairab mask crowned with skulls and wearing flowers tucked behind his hears. This large mask was carried on a pole during festivals; there is a round niche in the back where decorative banners were fitted. $350. |
| | | 5. Wooden Mask of a Man. 10" x 6 1/2". 19th or early 20th Century from the Middle Hills of Nepal. A very fine Tamang mask of dark hard wood with an excellent patina. Used in village dances, a mask of this quality was probably owned by a professional theatrical group that would travel from place to place. $950. |
| | | 6. Large Joker Mask. 19" (48 cm.) high. Wood, Nepal, early 20th cent. From the Terai region in southern Nepal, used as comic relief in pre-TV village ritual/entertainment. One ear broken and held together with wire. A great manic smile. $695. |
| | | 7. Painted Copper Bhairab Mask. Nepal, Mid 20th century. 13" (33 cm.) long, 14" (35 cm.) wide. Copper, the tongue cast separately and attached so that it can move slightly. Worn during the yearly festival of Indra Jatra; these masks are repainted periodically in violent colors to make them more frightening. The dancers are accompanied by a band of five or six musicians as they dance through the streets of Kathmandu. $450. |
| | | 8. Terracotta Bhairab Mask. Nepal, 19th to early 20th century. 12" by 10". Used once a year during the Indra Jatra festival. Bhairav, the angry manifestation of Shiva, wears a skull crown and has sharp teeth and flaming hair and wears coiled snake earrings. This mask is placed in front of a pot filled with chang or home brewed beer, which is funneled through a pipe emerging from the Bhairava's mouth. The consecrated chang is consumed during the ceremony. SOLD. |
| | | 9. Monkey King Mask. Southern Nepal, 19th to early 20th century. 20" (50 cm.) long. A large mask from the villages of South Nepal used in dance/drama stagings of the Ramayana. Carved in one piece, from you can see in the grain of the wood the tree that this once was. Traces of paint. This mask is cracked down the side and has been repaired -- see the last photo in the series. $650. |
| | | 10. Man with a Broken Nose. Middle Hills, Nepal, 19th to early 20th century. 10" (25 cm.) long, 8" (20 cm.) wide. A fine Tamang mask of dense wood. Leather strips on the forehead on the chin. $750. |
| | | 11. Tamang Man. Middle Hills, Nepal, 19th to early 20th century. 11" (27 cm.) long. A fine mask of a handsome man done in heavy, dense wood. $950. |