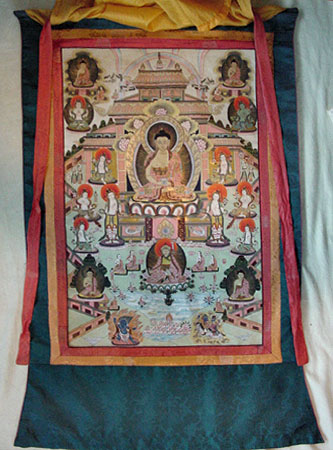 Click on the photo for enlargements.

4. Buddha The painting is 27" high, 17" wide. Tibet. In brocade frame (with brocade, 40" high, 25" wide). This was painted in the early 1950s on an oiled canvas -- a technique used so that the thanka could then be rolled up and carried on long journeys as a portable altar. The Buddha is seated on a peacock throne, surrounded by meditating monks, deities, and other Bodhisattvas, while references are made to scenes from his life. The small figures of monks and rejoicing devis are particularly nice. $450.

Home || The Catalog || Tibet Travel Update || Contact Us!